Hello All!! And welcome to our ode to healthy desserts! We, like many families with young kids, realized long ago, what a constant struggle it can be to get kids to eat healthy. Every time you try to get them to eat something new there seems to be instinctive push-back.
Quite often it starts by them saying they don't like it before they even try it, which means they don't like the looks of it. And if you can convince them to try it then they say they don't like how it tastes.  If they are younger, this can easily mean that they don't like the texture or don't like both texture and taste.
So what is a parent to do?! I can tell you, in our family we have had our share of persuading, cajoling, sending them to bed with little/no supper in order to get them to eat the healthy stuff, especially vegetables. Now, our kids are generally pretty good at eating fruit. There are some some exceptions. However, trying to persuade them that fruit by itself is perfectly acceptable dessert is a harder sell. This is were my wife and I reap the consequences of having a sweet-tooth as it in turn influences the kids.
Ice cream, which we love, the kids of course love as well. There's nothing quite like ice cream! Whether in a cone, cup or bowl, covered in chocolate, caramel, sprinkles or what have you, it always seems to go down well. Heck, we were becoming regulars in the grocery store ice cream aisle as well as at Dairy Queen!
Along with our overall diet change we needed to make a change in the ice cream dessert department as well. We have tried making our own smoothies. They are usually successful with the kids but don't quite replace ice cream. So we took the smoothies and put them in popsicle makers and into the freezer. The kids liked them OK but were not really overwhelmed and there is a fair bit of prep/cleanup still.
Enter the idea of the Yonanas frozen fruit machine!! My wife first saw it featured on TV and started talking about it. I wasn't immediately convinced nor paying that much attention probably! When she persisted, my instinctive response was to grumble about why we needed yet another kitchen gadget to clutter up the kitchen counter. But after my wife carefully and slowly (as you have to with a distracted, unwilling husband sometimes!) explained to me why it would be good for the kids especially, I finally agreed to spend money on one of these Yonanas ice cream treat maker thingies.
We are still in the early stages of using Yonanas machine but the first few times were definitely a hit with the kids. I think the very first time we only used frozen bananas. We were quite pleasantly surprised at how creamy the texture was, very similar to ice-cream! And if you use over/well ripened fruit it will taste quite sweet without adding any sweetener. This was made clear by how enthusiastically our kids ate it!
Yonanas Models
As with many products, there are several models that you can get. Three to be exact.  The basic Yonanas model is what we ended up getting.  I'm not much for doing ice cream maker reviews but the basic model has served us quite well so far.  If you want to know what's different between the three models I have included a brief outline what each of the three models comes with so you can pick the one that suits your needs best.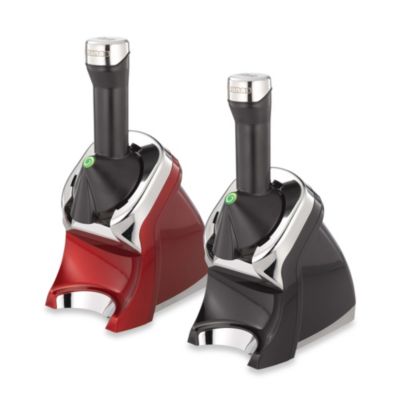 Deluxe
Yonanas machine
Small recipe book
Some Yonanas popsicle molds
A frozen fruit container
A user manual
Elite
Most powerful model
Meant for frequent and prolonged use
Recipe book with 120+ recipes
Comes with a 3 year warranty
Where to buy Yonanas
There are a number of retailers both in the U.S. and Canada that sell the Yonanas machines.  Yonanas itself lists the following  as retailers: – Bed Bath & Beyond – Target – Best Buy – BJ's – Wegman's – ACE – Amazon – Kitchen Collection – Le Gourmet Chef – Kitchen Kapers – Frontgate – QVC – Amazon – The Sharper Image – Brookstone – Hammacher Schlemmer – Kohl's
New
If you want to get a Yonanas, Walmart is easily one of your best options. They are the cheapest among the retailers that sell Yonanas new.  If you are looking for an ice cream makers sale please click here
Used
Amazon and eBay will also sell used models at lower prices than most new models.